Earl Hall - Dodge Room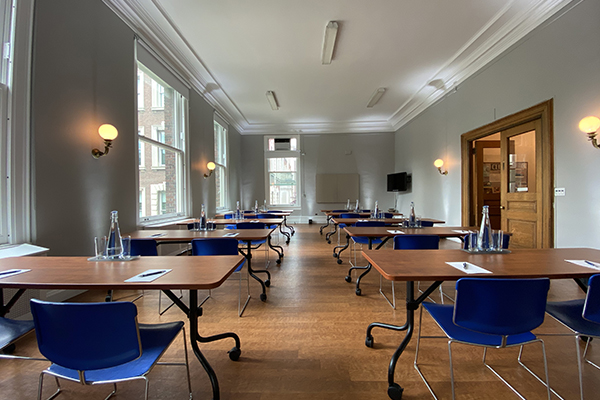 About the Space:
The Dodge Room is located in Earl Hall. The space is equipped with a television screen, DVD player, and two large dry erase boards. 
Earl Hall is the center of spiritual life on campus. Home to the Earl Hall Center of Religious Life's advisers and staff, the building also offers space for religious gatherings, events and the community. 
Built in 1902 by McKim, Mead and White, this campus landmark contains a 2,650 sq ft auditorium and varied meeting spaces.
Who Can Book This Venue:
Students, faculty, staff, and guests can book space at Earl Hall.
Recognized Student Groups must fill out a paper Space Request Form in the Student Events Office on the 7th Floor of Lerner Hall to reserve space at Earl Hall. Priority booking for student groups goes to religious student groups.
For departmental and external bookings, there is an approval process for any space requests. A decision can take up to 72 hours from initial request to placing the space on hold.
Recommended Uses:
The space is best used for breakout sessions or meetings.
Space Configuration:
Below are a number of ways this space can be configured, but don't limit feel limited by these layouts! If you are interested in other possible ways that this space can be utilized, please contact us and we can discuss your event needs and similar events we've conducted in the past.
Room Dimensions: 25'x17'
Maximum Occupancy: 30-40
Room Configuration:

Reception: 40
Conference: 22